Lemon Tea Tree Essential Oil
$12.95 – $418.00
A fresh, strong, cleansing citrus lemon aroma.
Description
Lemon Tea Tree Essential Oil
Lemon Tea Tree essential oil is a strong, bright lemony essential oil. The Lemon Tea Tree is great in aiding concentration and freshening a stale home or kitchen. Only the Lemon Tea Tree produces this one natural essential oil.
Botanical name  Leptospermum petersonii                                                                        

Ingredients 100% v/v pure Lemon Tea Tree essential oil.
Lemon Tea Tree Essential Oil Aroma
A fresh, strong, cleansing lemon scent.
Benefits
Clear and focus the mind and assists concentration. The oil is uplifting, pleasingly invigorating and for some it is calming, offering relief for mental stress as an anti-depressive and aids happiness. The refreshing odour helps to remove bad room smells. Useful in helping to calm noisy children.
Uses
There are many uses for this wonderful essential oil. In an oil burner, vaporiser, air freshener, potpourri, massage oil, soaps, creams and can be added to perfumes.
MORE INFO
Directions and More Uses
Aromatherapy Oil
2 to 4 drops in an oil burner or vaporiser.
1 drop into a bath.
The essential oil can be added to your own skin care products for a lovely lemon aroma. Caution – it can be a potential skin irritant so always do a skin test first.
Blend with:
Try blending with Australian Blue Cypress, Emerald Cypress, Eucalyptus varieties, Kunzea, Lemon Myrtle, Nerolina, Niaouli, Rosalina, Sandalwood and Tea Tree.
Massage
Use 2-5 drops per 100ml of carrier oil.
Main Actives of Lemon Tea Tree Essential Oil
Contains up to 70% Citral, containing: geranial, neral, cis citral, (Lemongrass 30-70% Citrals, Lemon Verbena 40%, Lemon Balm 70%)
Citral has been shown to be anti-bacterial, can aid concentration when studying and can be invigorating.
Precautions
Do not use at a rate greater than 1% in body products as skin sensitisation may occur.
Keep out of reach of children.
Store away from direct sunlight.
Store below 30 degrees.
Other Common Names
Lemon Scented Tea Tree.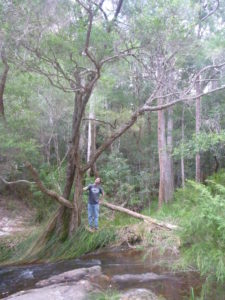 Natural Occurrence in Australia                                                                                                   
Lemon Tea Tree naturally occurs in the south east of Queensland and northern New South Wales. A great example of a wild stand is at Minyon Falls, in north east New South Wales. It can also be found at Mt Lindesay, Springbrook and Mt Timbeela, which is part of the Glasshouse Mountains.
The tree grows to a maximum height of 6 metres in the wild., and typically like other Melaleucas, it can grow right in amongst wetlands and river courses.
Characteristics
Clear to yellow in colour; watery consistency; scent citrus, lemon fresh.
Extraction and Farming Method
The essential oil is extracted via steam distillation of the middle and upper stem, branchlets and leaves. It is grown in plantations in north east New South Wales. Plantation trees are planted in rows and kept to a maximum height of 2 metres. They are machine harvested and immediately steam distilled to extract the highest quality oil.
History 
Traditional Usage
Traditional usage did include using the leaves for infections and for troubled skin conditions.
Early European Usage
The tree is too small to be used for timber. Eg woodwork or firewood and as such it was not exploited during the two World Wars  like Lemon Myrtle and Anise Myrtle were.
Present Day Usage
Today Lemon Tea Tree essential oil is obtained from plantations in northern New South Wales. The essential oil is used by aromatherapists and is included in insect repellent formulations.
Typical Chemical Profile of Lemon Tea Tree Essential Oil                                                            
alpha pinene                                                       1.0%
beta-pinene                                                         0.3%
myrcene                                                              1.5%
limonene                                                              0.2%
1,8 cineole                                                           0.9%
linalool                                                                 2.0%
citronellal                                                          24.5%
geraniol                                                               3.0%
neral                                                                  22.0%
geranial                                                             21.0%
Optical rotation @ 20 C -0.2
Relative Density: @ 20 C 0.881
Refractive index @ 20 C 1.484
Additional information
| | |
| --- | --- |
| Weight | .06 kg |
| Dimensions | 2.5 × 2.5 × 7 cm |
| Size | 12ml, 25ml, 100ml, 1kg |
Additional Information