Australian Essential Oil Lecturer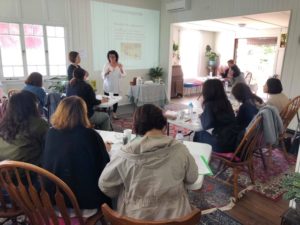 Deby Atterby Australian essential oil lecturer
Deby Atterby is a qualified Aromatic Medicine Practitioner, Clinician, Aromatherapist, Reflexologist, Iridologist, Remedial Massage Therapist, Beauty Therapist and Lecturer, we are proud to have formed a close relationship with her over the last 5 years.
As a result she has now also established herself as an Australian essential oil lecturer and is a great supporter and educator of our Australian essential oils.
In 2002 Deby founded Aromatic Aromatherapy Therapies (AAT), this provides a forum for aromatherapists to attend designer workshops to maintain their CPE levels.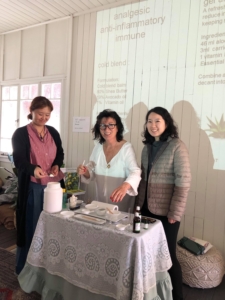 Deby training overseas Aromatherapy students
Deby is owner, editor and publisher of the Aromatherapy Today International Journal. This journal is distributed worldwide, 3 times a year. Deby edits, researches, writes and publishes articles on aromatherapy and other aromatic modalities. In each journal Deby prepares an in-depth profile on an essential oil.
In addition Deby is the founder and organiser of the Aromatica conferences, held every 2 years on the Gold Coast. This is an event where she brings in notable aromatic practitioners from around the world to present various, new developments in the world of aromatic medicine.
Deby is a registered teacher of Aromatic Medicine and Clinical Aromatherapy with the International Aromatherapy and Aromatic Medicine Society (IAAMA) and the Australian Traditional Medicine Association (ATMS).
If you would like formal education on Australian essential oils, contact Deby at deby@aromatherapytoday.com or call her on 61 (0)7 5534 5434.