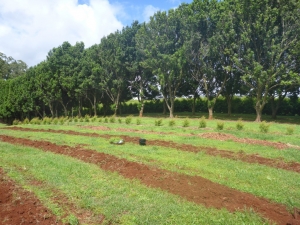 Plantation of Essentially Australia September 2014
About half an hour out of Byron Bay is Essentially Australia's very own plantation.
Growing on the moist, rich red volcanic soil, are some very unique, local Australian plants which were rediscovered and propagated by Greg Trevena and are being grown nowhere else.
Species grown include a variety of unique rose aromas, plus delicious tropical fruit scented ones, some yet to be released, including:
Byron Bay Rose®
Belissima Myrtle™
Mango Myrtle® (2022)
Planting out on our plantation, December 2016
The farm is lush, the trees are not sprayed as the oil in the leaves deters most bugs, the plantation grounds are mowed by a ride on mower, often weekly and our plantation is expanding all the time.
The plantation is the real root of our business and which we are very proud of.